CALL FOR DONATIONS / APPEL DE DONS!
Created since almost four years, the International Association Save the heritage of Hassan Fathy is glad to announce a positive record. Indeed, amongst many actions, it has accomplished the following:
mobilizing

specialists in mud brick

architecture on an international level
referring the emergency of rescuing

New

Gourna

to

Unesco, convincing

to undertake

restoration

and

revitalization of the

model village of New Gourna

Carrying

out

the renovation of the

khan's portico with very little means. See articles:
The recent events in Egypt have unfortunately stopped an ongoing process. The relationship between Unesco and the Egyptian institutional partners was interrupted, but time will come to reestablish the dialogue. In the meantime the Association needs financial support to continue undertaken emergency operations – stabilization, restoration and renovation, to avoid that this extremely rich educational world heritage disappears forever.
We thank you in advance for support and donations for the STABILIZATION OF HASSAN FATHY'S HOUSE in New Gourna!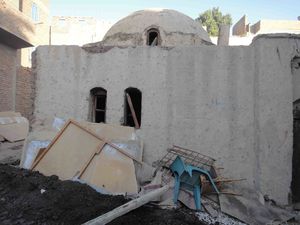 Save the Heritage of Hassan Fathy
Swiss Post - PostFinance
Nordring 8
3030 Bern
Switzerland
Compte : 12-232436-0
BIC /SWIFT : POFICHBEXXX
IBAN : CH9509000000122324360
Constituée depuis bientôt quatre ans l'Association internationale Save the heritage of Hassan Fathy peut se féliciter d'un bilan qui n'est pas négligeable. Parmi ses nombreuses ections, elle a en effet réussi à :
mobiliser l'attention internationale des architectes spécialisés dans la terre crue
à porter le dossier du sauvetage de Nouveau Gourna devant l'Unesco, à convaincre du bienfondé d'entreprendre une restauration-revitalisation du village modèle
à mener à bien avec très peu de moyens financiers la rénovation du portique du khan. Voir les articles :
Les évènements récents en Egypte ont malheureusement stoppé une dynamique en marche. Les relations établies entre l'Unesco et les partenaires institutionnels égyptiens ont été rompues, mais nous savons que l'heure viendra de rétablir le dialogue. Dans l'intervalle l'Association a besoin de soutien financier pour pouvoir continuer de mener à bien des opérations ponctuelles de restauration-consolidation-rénovation, afin d'éviter que ce patrimoine mondial riche d'enseignement ne disparaisse à jamais.
Merci de soutenir par vos dons pour la CONSOLIDATION DE LA MAISON DE HASSAN FATHY à Nouveau Gourna !
Save the Heritage of Hassan Fathy
Swiss Post - PostFinance
Nordring 8
3030 Bern
Switzerland
Compte : 12-232436-0
BIC /SWIFT : POFICHBEXXX
IBAN : CH9509000000122324360