Le village de Hassan Fathy une année après la révolution/Hassan Fath'y village one year after the revolution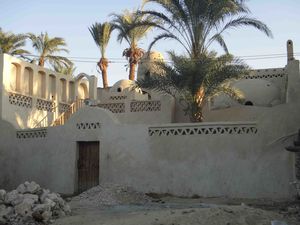 Interventions libres sur une maison originale La cour de la Maison de Hassan Fathy
Free interventions on an original house The court of Hassan Fathy's House
L'Association Save the Heritage of Hassan Fathy s'est rendue à Nouveau Gourna à la fin de décembre 2011. Malheureusement la situation générale du village s'est rapidement et gravement détériorée durant l'année. Trois maisons ont encore été détruites. La maison de Hassan Fathy est sur le point de s'écrouler, le contrefort soutenant l'un de ses murs de façades et le dôme de la qa'a étant maintenant réduit à un tas de pierres. Par ailleurs les nouveaux intervenants et propriétaires locaux ont réalisé des interventions de Disneylandisation très regrettables. Ce phénomène de gentrification ne respecte aucunement l'esprit du travail original de Hassan Fathy et ce sont encore deux maisons qui ont été totalement dénaturées. Il ne suffit pas de construire en briques de terre crue pour avoir compris l'intérêt et la philosophie de ce village unique au monde dont les plus pauvres pendant longtemps n'ont pas voulu et que les plus riches maintenant pervertissent.
L'Association Save the heritage of Hassan Fathy réitère ses appels à la communauté internationale et aux experts égyptiens avisés pour la sauvegarde et la restauration dans LES REGLES DE L'ART du village modèle qui a impressionné le monde entier et qui est un patrimoine mondial.
The Association Save the Heritage of Hassan Fathy has been to New Gourna at the end of December 2011. Unfortunately the general situation of the village has rapidly deteriorated during the past year. Three houses have been demolished. The house of Hassan Fathy is on the verge of collapse, the buttress supporting one of its facades and walls of the dome of the Qa'a is now reduced to a heap of stones. Moreover, new local owners have made very unfortunate "Disneyland" interventions. This phenomenon of gentrification does not respect the spirit of Hassan Fathy's the original work and two houses have been completely denatured. It is not enough to build in mud brick to understand the value and philosophy of this worldwide unique village, which the poor long did not want for a long time and that is now perverted by the richer ones.
The Association Save the heritage of Hassan Fathy reiterates its calls upon the international community and Egyptian experts for the safeguarding and restoration in THE STATE OF THE ART of the model village which has impressed the world and remains a World Heritage.