New Hotel project in New Gourna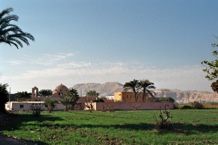 Save the heritage of Hassan Fathy has been informed that the governorate of the West Bank in Luxor is planning to sell agricultural land beside New Gourna village in order to build a hotel "inspired" by Hassan Fathy.
The building of a new tourism complex is being projected while New Gourna village has just been examined by UNESCO for protection and listed on the World Monuments Watch List.
Thus Save the heritage of Hassan Fathy is concerned by the legitimacy of such a project in this area.
Not only does it raise the question of threats on the already very fragile state of New Gourna village but also of its adaptability to the environment and the surrounding landscape...
Moreover, why should such a project be implemented on agricultural land?