UNESCO's First Scientific Committee in New Gourna
The First Scientific Committee for the safeguarding of New Gourna was held in Luxor from 2-3 October 2010. The session was inaugurated in the Cultural Heritage Centre of Luxor by Francesco Bandarin, assistant Director-General, Culture Sector, Unesco and Dr Samir Farag, Governor of Luxor. Among the present institutions were: SAVE THE HERITAGE OF HASSAN FATHY, ICCROM, ICOMOS, the Aga Khan Trust for Culture, DOCOMOMO, CRAterre, World Monuments Fund, Ministry of Culture (Egypt).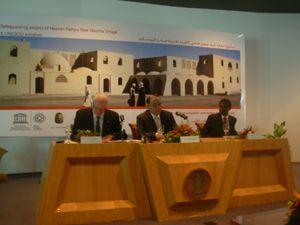 All the members agreed on the importance and urgency in restoring the core of Hassan Fathy's village. Several scenarios for the restoration and rehabilitation have been discussed for the first between international and Egyptian experts and the Egyptian authorities. This Committee marks the beginning of a long process which should include the considerations of the inhabitants of New Gourna and define architectural and restoration measures adapted to the exceptionality of this world famous example of appropriate technology.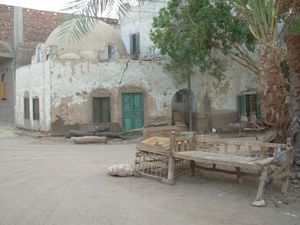 SAVE THE HERITAGE OF HASSAN FATHY hopes that everything will be done in accordance with the philosophy of Hassan Fathy and that it will encourage close collaboration between Egyptian locals and experts (disciples of Hassan Fathy, specialists in conservation and earth architecture, architects) and international experts.