URGENCY: COLLAPSE OF NEW GOURNA'S KHAN VAULTS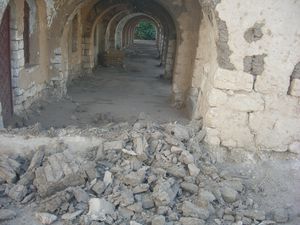 Save the Heritage of Hassan Fathy association is extremely alerted by the collapse of one of the vaults of New Gourna's Khan. Hassan Fathy had planned the khan with workshops for craftsmen and a vaulted gallery for them to expose and sell their crafts.
The Khan is one of the main buildings of New Gourna village, which has suffered severe deterioration during the past years mainly due to neglect. After its first assessment mission in January 2009, Save the Heritage of Hassan Fathy had already called for urgent measures for conserving and restoring the Khan, one of the most severely damaged public buildings of the site. This degradation represents a terrible threat as it could lead to the collapse of the entire gallery.
Despite the recent UNESCO scientific mission in October 2010, the degradation of New Gourna village is ongoing and the damage on this arcade is a visible sign of the threats that menace the whole site.
Save the heritage of Hassan Fathy calls for urgent measures to save and restore the Khan, one of the most outstanding buildings of Hassan Fathy's New Gourna village.