Guidelines for the Safeguarding of New Gourna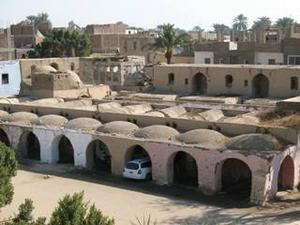 Current situation

1) New Gourna has suffered important damages related to underestimation and abandon. Some buildings have disappeared, like the Boys School or the Mayor's House. Some have been denatured and elevated in various techniques other than rough earth. Others, like the market or the khan, are in danger of collapse and ruin.

2) Although a number of buildings have been altered, the urban pattern of the village is still clearly legible.


Preliminary measures


1) A detailed expertise of New Gourna's current state of conservation is necessary prior to any action. Considering the universal significance of New Gourna as a pioneer reference of earth architecture, this expertise should mobilize all the leading specialists in this field. International laboratories are already willing to provide assistance to the Egyptian teams.

2) The entire village of New Gourna and its surroundings should be considered as an entity. The expertises, studies, analysis, program scenarios and projects should take into account the whole area and not one or another isolated building. Only a global vision of the built village and its surroundings can generate a valid safeguarding project.

3) This reflection should consider the fact that only 1/3rd of the constructions of the village planned by Hassan Fathy have actually been achieved. Thus, the surroundings of New Gourna should be integrated in the safeguarding project; any architectural or environmental process in this protected area should bee evaluated in order to be in harmony with New Gourna.

4) The study of the documents conserved at the Hassan Fathy Archives of the Rare Books Library and Special Collections of the American University in Cairo should absolutely serve as a basis to any reflection prior to the elaboration of a safeguarding project. The choice of a program for New Gourna should take into account the meticulous studies carried out by Hassan Fathy and his disciples in 1970-1980.

5) In sum, the study and analysis process is as important, if not more, than the restoration work itself. This is why the means should be given to this process while all the measures of conservation should be taken immediately to avoid further deteriorations.
SAVE THE HERITAGE OF HASSAN FATHY is fundraising for:
Sending expertise missions to asses New Gourna's state of conservation in order to promote a safeguarding project

Organizing an International symposium in Louxor with concerned institutions and experts


Creating an International Pole for Earth Architecture in New Gourna:
- Pilot-building site for earth architecture
- Scientific and educational programms for restoration and rehabilitation of earth architecture in New Gourna